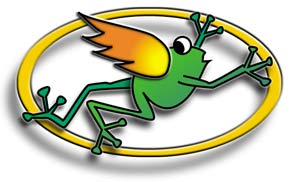 Since 1972,
Mary Ellen Szper
has been
creating and selling art.

Following a boldly exploratory youth in floral design, typography, color separation, production graphics, pattern drafting, accompanied by stints as costumer, photo stylist, roofer, printer's devil, baby whisperer, private party caterer, professional clown, stable hand, production artist, and alterationist, flyingfrog.com took flight in 1993 as an internet based graphic design and illustration service providing exceptional levels of service at reasonable prices.

Clients include small businesses, public relations, marketing and design firms, authors and artists, corporations, city, county and federal government agencies the likes of
BLM and Army CoE, Parks & Rec
and a variety of professional and social associations. A smattering of non-profit work, as time and inclination permit.

Work Product runs the gambit of logos, large scale murals, book covers, technical illustration, logo and branding packages, ads, brochures, cartooning, signage, marketing strategy, watercolors, pen and ink,
basics like business cards, rack cards
fold up maps and guides,
as well as presentations,
events and exhibits.
Media and techniques selected according to project needs and budget from high tech to hand worked. All with the same high standards of quality and professionalism.
ART SITES:
South Fork of the American River, CA
Stanislaus River, CA
Snake River, ID
Mt Whitney, CA
Rubicon Trail, CA
San Pedrito, BC Sur
Scottsdale, AZ
Bridgeport, CA
Placerville, CA

Costs are quoted ala carte
on a "per project" basis.
Client controls the budget.
All Digital Work Process(DWP)occurs online via email and web proof pages. This enables us to keep costs down and efficiency up and makes tracking simple.

."Reasonable Prices for
Exceptional Levels of Service"